Restaurant Laudat in Santanyi – Fine Mediterranean cuisine
---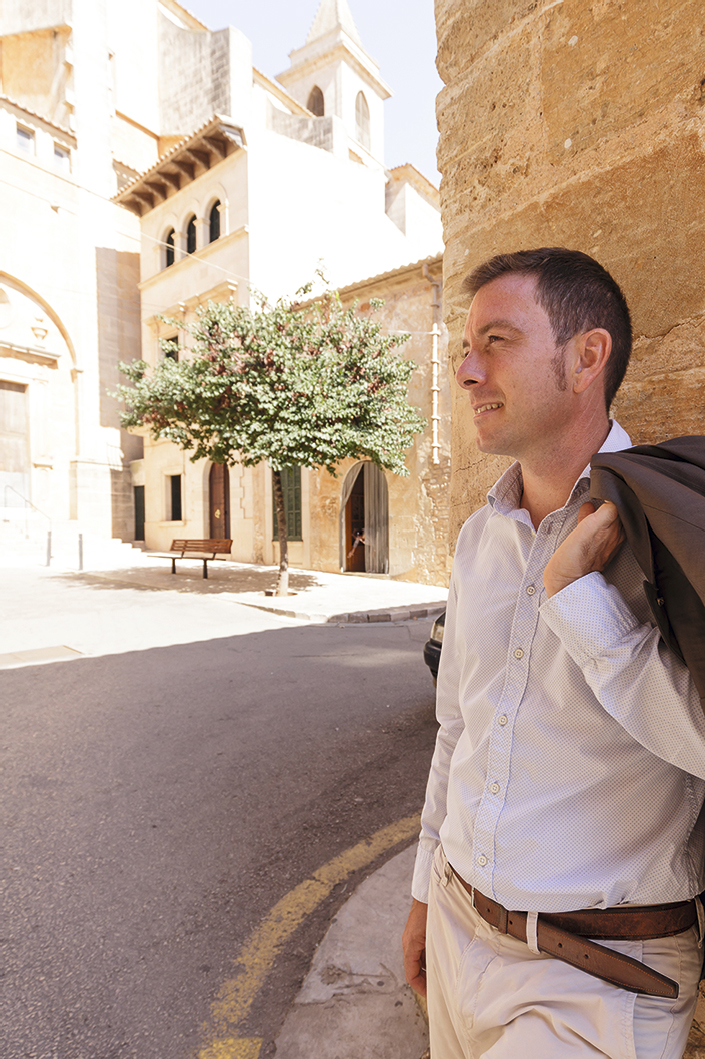 If a wine expert, a friend of interior design and a gourmet in one man opens a restaurants it´s going to be a culinary experience. It just happened 8 weeks ago in Santanyi when Michael (Miguel) Laudat opened his restaurant in the center of Santanyi.
Indeed, it´s love and passion! His passion for wine and good food and his excellent taste are reflected all over the restaurant, a townhouse close to the market square with typical elements and modern interior.
Miguel Laudat knows about wine since he was and is still responsable for the wine card of the established fine Restaurant Reserva Rotana in Manacor. But with Restaurant Laudat, his own dream came true and he is now more than proud to show his guests around and telling a story about every part of furniture he and his wife carefully selected.
A unique detail is the own bodega with a wide selection of local wines and deli food, available for take away after lunch or dinner. Another eye catcher is the own house wine "Laudat" – white, red and rosé. Have a look to the label and carefully scan the restaurant. You will find the original painting in the front part.
Small but fine
Taking about the menu or the restaurant? Both!
The Restaurant Laudat is divided into 3 small guest rooms and a lovely exterior patio. Both rooms in the back part are completely separate and offer privacy for families and friends. The separated room division guarantees a calm and stress-free atmosphere.
Talking about the menu. For dinner you get pampered with modern Mediterranean cuisine, at lunch a selection of light dishes is served and even for breakfast guests are very welcome. Gourmets will highly estimate the clear menu card with only the best Mallorca´s market has to offer.
My recommendations:
Grilled turbot with vegetables, tagliatelle and White wine foam.
Dorade filet with steamed with aromatic herbs, wok vegetables and Thai rice.
Suitable for vegetarians: Mushroom Risotto.
Best wine, of course, the house wine "Laudat".
Important to mention is the professional service staff which is spoiling its guests – never obtrusive but always keeping an eye on you. Small team with fine service!
Different but why?
Indeed, there are many excellent restaurants in Mallorca. So, what makes Restaurant Laudat so different? Go for dinner and you will know! It´s a restaurant you will remember! Due to the tasteful interior design, the warm welcome of the owner, the professional service staff and the excellent food. A fusion of all the best – very rare in Mallorca!
Michael (Miguel) Laudat and his team welcomes you for breakfast, lunch, dinner!
Make a reservation, there are only few seats available!
Restaurant Laudat opens for you:
Lunch:  13:00 – 15:30
Dinner: 19:00 – 22:30
Wednesday & Saturday breakfast (Market day in Santanyi): from 9:00
Sunday closed
Restaurant Laudat
Carrer de Sant Andreu, 18
07650 Santanyí
Telephone:+34 871 90 60 34
Have a look to the actual menu cards here:
Text: Nicole Rose